Bjorn Borg - Grace Under Pressure


Custom Search
Bjorn Borg
was born 0n June 6, 1956, in Stockholm, Sweden. He is a former World No. 1
tennis player
from Sweden regarded by some observers
and tennis players as the greatest player in the sport's history. During a nine-year career, he won 41 percent of the Grand Slamsingles tournaments he entered (11 of 27) and 89.8 percent of the Grand Slam singles matches he played. Both are male open era records. In addition, Borg's six French Open singles titles are an all-time record. He is the only player to have won both Wimbledon and the French Open in three consecutive years.










---
---

If you loved how Bjorn Borg played a back court game and would like to find out how to improve and revolutionize your game, Brent Abel is highly recommended. Go to his site, WebTennis.net.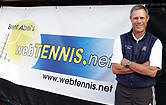 Brent Abel
is highly recommended to:
• Dramatically improve your tennis strokes...
- serve
- one-handed backhand groundstroke
- forehand groundstroke
- two-handed backhand groundstroke
- forehand and backhand volleys
- returns of serve for singles & doubles
- overhead
- lob
- drop shot
• Understand the simple yet essential keys to footwork.
• Develop the necessary mental skills for practice and competition
• Be more focused on court positioning - Finally understand exactly how superior court positioning in your singles and doubles strategies can have an enormous effect on challenging your opponents.
• Get fitter and learn simple exercises for tennis specific injury prevention, greatly reduce the risk of tennis elbow, rotator cuff, and other tennis related injuries
• Learn to become an "all-court" tennis player instead of just being a one-dimensional predominantly baseline player
• Enjoy this beautiful game throughout your lifetime. Go to
WebTennis.net
.
---
---


Bjorn Borg won the fourth most Grand Slam singles titles (11) of all time, behind Roger Federer, Pete Sampras, and Roy Emerson.
Borg never won either the U.S. Open or the Australian Open, losing in the final at the U.S. Open four times. The only players to defeat Borg in a Grand Slam final were fellow World No. 1 tennis greats John McEnroe and Jimmy Connors.


---


Below is Bjorn Borg tennis memorabilia:


---


Playing style
Bjorn Borg had one of the most unique playing styles in the open era. Borg played from the baseline, with powerful ground-strokes and a two-handed backhand (very rare at the time and unorthodox). He hit the ball hard and high from the back of the court and brought it down with considerable topspin, which made his ground-strokes very consistent. There had been other players, particularly Rod Laver and Arthur Ashe, who played with topspin on both the forehand and backhand. But Laver and Ashe only used topspin as a way to mix up their shots and pass their opponents at the net easily. Borg was one of the first top players to use heavy topspin on his shots consistently.
Complementing his consistent ground-strokes was his fitness. Both of these factors allowed Borg to be dominant at Roland Garros. It was said that in his prime, his resting pulse was 32 beats per minute which medically, is a heart condition called bradycardia.
However, one of the feats that make Bjorn Borg unique is his dominance on the grass courts of Wimbledon, where baseliners historically do not succeed. Experts attribute his dominance on grass to his consistency and an underrated serve.
Another trait usually associated with Borg is his grace under pressure. His calm court demeanor earned him the nickname of the "Ice Man" or "Ice-Borg".


Custom Search
---
HOME