Great & Famous Tennis Players


Custom Search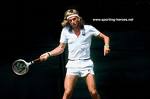 Top Tennis Players

Top tennis players like Novak Djokovic, Andre Agassi, John McEnroe, Bjorn Borg showed
their greatness on the tennis court. These players dedicated their lives to this great game and hence, achieved what only most of us can only dream about. These tennis champions not only achieved fame but financial rewards as well.
A good example is Maria Sharapova who is being rewarded large amounts of money, a big chunk of it coming from commercial endorsements; after all, it always helps to put a famous face with a brand of cereal or that new Ergohuman office chair. A combination of good looks and prowess on the court made that possible. Tennis stars such as Andre Agassi achieved fame and fortune by the combination of talent and charisma. Those two qualities endeared him to millions of tennis fans all over the world.


Others achieved fame in their professional life by the sheer talent and skills which they exhibit on the tennis courts like Pete Sampras and Roger Federer. They may not have won fat endorsements but their tennis records will stand for a very long time.
This page is about these famous tennis players and their achievements.


---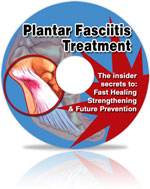 ---


If you love how these tennis players play or played their tennis games and would like to find out how to improve and revolutionize your own game, Brent Abel is highly recommended. Go to his site, WebTennis.net.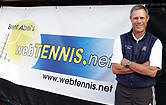 Brent Abel
is highly recommended to:
• Dramatically improve your tennis strokes...
- serve
- one-handed backhand groundstroke
- forehand groundstroke
- two-handed backhand groundstroke
- forehand and backhand volleys
- returns of serve for singles & doubles
- overhead
- lob
- drop shot
• Understand the simple yet essential keys to footwork.
• Develop the necessary mental skills for practice and competition
• Be more focused on court positioning - Finally understand exactly how superior court positioning in your singles and doubles strategies can have an enormous effect on challenging your opponents.
• Get fitter and learn simple exercises for tennis specific injury prevention, greatly reduce the risk of tennis elbow, rotator cuff, and other tennis related injuries
• Learn to become an "all-court" tennis player instead of just being a one-dimensional predominantly baseline player
• Enjoy this beautiful game throughout your lifetime.   Go to
WebTennis.net
.
---
---








Related Resources:

Tennis Facts
Tennis Scoring
Tennis Trivia
Tennis Players
Tennis Grandslam
History of Tennis
Tennis Grandslam Trivia




HOME