Free Tennis Tips


Custom Search
The following insightful
free tennis tips
were written by Bill Cole, Ceo of ProCoach Systems. They may help
you become a tennis champion one day. A tennis tip is good only for the person who is ready for one. Hoping reading this will make you the best tennis player you are capable of and enhance your play and bring it to another level. Learning how to play tennis the right way is something that stays with you all your life.











---


free tennis tips, anyone?

(Pay attention to what Bill Cole writes. He's a superb mental coach. These are tips for the mind. One doesn't have to pay for tennis tips. Hence these are called free tennis tips. Be free to ponder on them, visualizing how these free tennis tips can help you improve your game.)

Winning The Game Of Life
Bill Cole, MS, MA
Sports champions know how to win and accomplish their dreams. They have learned the secrets of winning and success in sport. The mental game concepts that follow are familiar ones in the sport world. Let's examine these principles and laws of winning in sport and see how we can apply them to our daily lives.
Championship sports stars know what these principles mean, honor them and apply them in their training and competitions:
1. Second Effort. Making that extra effort can make the difference between winning and just barely losing. It means going the extra mile-when you are tired, when victory is not a guarantee, when things look bleak. Champions routinely push themselves.
2. Get It Done. High achievers use this phrase constantly to display their commitment to the task at hand. They will do whatever it takes, against all odds, to succeed, once they have made the commitment to succeed. There is no doubt it will happen. Just "get it done".
3. The Killer Instinct. Only champions have this. Champions know how to finish off a contest once a lead is established. They have no qualms about defeating the opponent. They keep their sights aimed at victory and are unrelenting as they forge ahead to victory.
(Very good free tennis tips indeed. Tennis champions are made - they are not born that way. Keep in mind those tennis tips and be ready for a big change in your play. Remember that if you are mentally handicapped while playing, you will not win.)



4. Raising Your Game. Champions know that performance levels must be ratcheted
up at various stages of a contest. To seize an opportunity to win, the champion digs deep and pulls up from within the all-encompassing desire to succeed that takes them to the next level.
5. Coming From Behind. Champions know how to win even on a bad day. They hope for the best but also have plans for the worst. They are able to kick themselves out of the cellar and find a way to win, even if it is not pretty. They want that W next to their name.
6. Playing To Win. Champions are not bashful or ashamed to say that they love winning. They play positively, confidently and play like they mean it. They take bold, yet reasoned chances and believe that they will succeed. They play with positive expectancy of success.
(One of the top qualities of a champion is tenacity. One of the most tenacious players that I know of is Jimmy Connors. Watching him play will instill in one tennis tips for the mind. He had come back from quite a few losing battles. Again, open your mind to the free tennis tips in these pages and play like a tiger, the likes of which the legendary Jimmy Connors had shown time and again in many a tournaments which he played.)

Here's the quickest way to improving your game and mental toughness. There are of course no substitutes for hours of practice, gaining experience (playing high-level tennis with competitive opponents) and improving your strokes. But you can try these tennis tips and you will win more matches.


---


7. Playing Not To Lose. Losers or also-rans play not to lose. They play scared, they worry about making errors, they are indecisive, they doubt themselves. When they get a lead they protect it and are fearful of losing it. Champions hate to lose more than they love to win and will do everything in their power to make sure they win.
8. Protecting A Lead. Champions don't attempt to protect leads. They seek to increase leads. Also-rans try to protect a lead and lose in the process. Champions step up to the plate and go for it even more because they allow that surge of confidence to take them over and go to the next level as they increase contest momentum.
9. Digging Deep. Champions live for those make-it or break-it pivotal moments in a contest that make great theater. They compete to taste those times when only a supreme back-breaking effort will propel them to victory. They want to have a story to tell. They want to be a in a contest that is meaningful and significant and that will be remembered for a long, long time. They reach deep down inside themselves to find the magic needed to win.
(Tremendous tennis tips. Andy Roddick dug deep before prevailing over Younes El Aynaoui at the recent Australian Open. Here's the story:Andy Roddick vs Younes El Aynaoui (Australian Open)In an epic encounter in the Rod Laver Arena, it took 40 games in a dramatic fifth set before a winner emerged from this drama-infused duel. It was a match for the record books, with the longest fifth set, in terms of games played, since the beginning of the Open Era in 1968. And with a total of 83 games, it was the longest match in number of games at the Australian Open since the tie-break was instituted (for all but the deciding set) in 1971. Roddick fought off a match point at 4-5 in the fifth set before winning 4-6, 7-6(5), 4-6, 6-4, 21-19. I'm hoping that the free tennis tips that you just read will improve you as a player.


---
---
10. In-The-Zone. The high achiever knows how to climb into that optimal performance zone and ride the wave of success. They know how to get in the flow and allow things to happen. They don't get in their own way and block themselves. They soar with success.
11. Getting The Momentum. Peak performers understand and use momentum to their advantage. Every "contest" has momentum and the secret is to identify it and tap into it. The champion increases momentum and the chances of success by ramping up energy and by taking more chances when they have it. They honor and use momentum.
12. No Mind Games. A true champion does not need to play mind games. The champion is aware of all potential mind games that may be evident from various opponents and is ready for them. The champion counters all mind games and maintains true integrity.
(What goes through the mind of the champion? His countless hours of practice, tennis tips embedded into his mind by countless repetition by his coach, gaining free tennis tips watching other players play their best. All the learning that he had coalesced into the flawless forehand or backhand, high percentage first serves. The tennis tips that were pounded into his brain resulted in the Andre Agassi or the Pete Sampras that we were in awe of.)

Find out how to develop mental toughness to win more games and matches. Achieve dramatic results with Mind Training:


---
---

Champions are a different breed. Are they born this way or do they develop the attributes of winners? Whatever the mixture, we can learn mightily from them. We can be inspired by them, use them as benchmarks and hold them as role models. Just as they win the mental game of sport, we can win the mental game of life.
(Hoping you enjoyed the free tennis tips. Being a champion requires more from a player. Hence he must live and breathe tennis, assimilate tennis tips that he could find into his play. Tennis tips abound in the internet but in this site, you'll find plenty of free tennis tips - maybe not much of the techniques but more of the psychological kind. Thanks a lot).


Custom Search
Ability To Compete
Tennis Tips
Free Tennis Tips
Mental Training
Pre-event Routines
Enter The Zone
Junior Tennis Psychology

Back to Psychological Tennis Tips Page



If you loved how Andre Agassi played and would like to find out how to improve and revolutionize your game, Brent Abel is highly recommended. Go to his site, WebTennis.net.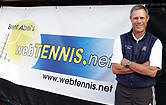 Brent Abel
is highly recommended to:
• Dramatically improve your tennis strokes...
- serve
- one-handed backhand groundstroke
- forehand groundstroke
- two-handed backhand groundstroke
- forehand and backhand volleys
- returns of serve for singles & doubles
- overhead
- lob
- drop shot
• Understand the simple yet essential keys to footwork.
• Develop the necessary mental skills for practice and competition
• Be more focused on court positioning - Finally understand exactly how superior court positioning in your singles and doubles strategies can have an enormous effect on challenging your opponents.
• Get fitter and learn simple exercises for tennis specific injury prevention, greatly reduce the risk of tennis elbow, rotator cuff, and other tennis related injuries
• Learn to become an "all-court" tennis player instead of just being a one-dimensional predominantly baseline player
• Enjoy this beautiful game throughout your lifetime. Go to his site,
WebTennis.net
.
---