John McEnroe's Tantrum and Talent Brought Him Greatness on the Tennis Court


Custom Search


John McEnroe was born on February 16, 1959 in Wiesbaden, Germany. He is a former World No. 1 professional
tennis player from the United States. McEnroe won seven Grand Slam singles titles — three at Wimbledon and four at the U.S. Open — nine Grand Slam men's doubles titles, and one Grand Slam mixed doubles title. He is remembered for his shot-making artistry and supreme volleying; for his matches against Bjorn Borg; for his fiery on-court temperament, which frequently landed him in trouble with umpires and tennis authorities; and for the catchphrase "You cannot be serious!" directed toward an umpire during a match at Wimbledon in 1981. Clearly, he was more concerned with his remarkable skills than strategic public relations. He was inducted into the International Tennis Hall of Fame in 1999.
McEnroe's game combined shot-making artistry, deft volleys, and a fast, attacking style of play. His sharp reflexes enabled him to return the biggest serves and passing shots masterfully, and the variety, delicacy, and quickness of his play delighted crowds. But McEnroe also quickly became known for his competitive fire and volatile temper. Verbal outbursts seemed to be a key way in which he motivated himself to battle through tough situations during matches, but this frequently got him into trouble.
---
---

If you loved how John McEnroe played with his famous net plays and would like to find out how to improve and revolutionize your game, Brent Abel is highly recommended. Go to his site, WebTennis.net.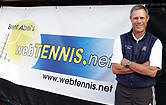 Brent Abel
is highly recommended to:
• Dramatically improve your tennis strokes...
- serve
- one-handed backhand groundstroke
- forehand groundstroke
- two-handed backhand groundstroke
- forehand and backhand volleys
- returns of serve for singles & doubles
- overhead
- lob
- drop shot
• Understand the simple yet essential keys to footwork.
• Develop the necessary mental skills for practice and competition
• Be more focused on court positioning - Finally understand exactly how superior court positioning in your singles and doubles strategies can have an enormous effect on challenging your opponents.
• Get fitter and learn simple exercises for tennis specific injury prevention, greatly reduce the risk of tennis elbow, rotator cuff, and other tennis related injuries
• Learn to become an "all-court" tennis player instead of just being a one-dimensional predominantly baseline player
• Enjoy this beautiful game throughout your lifetime.   Go to
WebTennis.net
.
Shortly after, McEnroe entered Stanford University, long before such luxuries as the online MBA, and won the NCAA singles and team titles in 1978. After that, he joined the professional tour.
Famous Battles with Bjorn Borg (1980-81)
In 1980, John McEnroe reached the men's singles final at Wimbledon for the first time, where he faced Björn Borg, who was gunning for his fifth consecutive Wimbledon title. At the start of the final, McEnroe was booed by the crowd as he entered Centre Court following heated exchanges with officials during his semifinal victory over Jimmy Connors. But the match itself was arguably the greatest Wimbledon final ever. In a fourth-set tiebreaker that lasted 20 minutes, often simply called "that tie-breaker," McEnroe saved five match points and eventually won 18-16. McEnroe, however, could not break Borg's serve in the fifth set, which the Swede won 8-6. This match was called the best Wimbledon final by ESPN's countdown show "Who's Number One?" and "one of the three or four greatest sporting events in history" by ESPN personality Mike Greenberg.
John McEnroe avenged that loss two months later, beating Borg in the five-set final of the 1980 US Open.


Custom Search
HOME